If you are looking for a way to put all necessary links together in the Instagram bio for free, then you are at the correct place.
Instagram Allows one link
As you know, Instagram allows its users to share just one link in their bio section. So, if you plan to share your location via Google Maps, then you probably will miss your website, social media, or other useful links. To solve this problem, many websites offer you link plans with different pricing strategies. However, finding a useful free tool is tough. But, we have prepared a service through which you can share multiple links in your Instagram bio via.
Instagram bio links, multiple links in the Instagram bio, multiple Instagram links, How to add multiple links in the Instagram bio
Use AddToQr to share multiple links in the Instagram bio
In AddToQr, you can use the map to pin your location and insert your useful contact information like the link of website, email, phone number, Facebook link, Twitter link, Instagram link, youtube, and Whatsapp link. Using this information, the system generates a link and QR code which you can use them to share multiple links in Instagram bio (even everywhere you wish) using just one link or QR code. If a user clicks on the link or scans the QR code, your information will be illustrated like what you see below.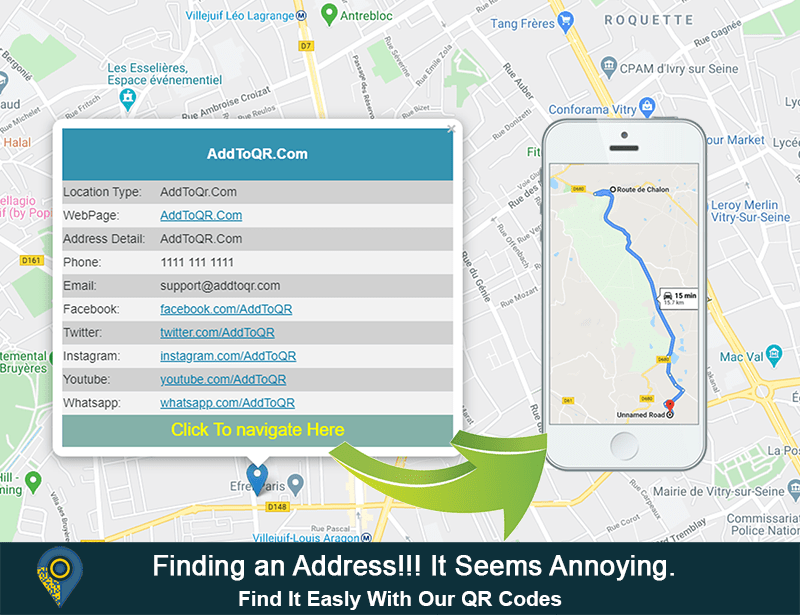 pic1- How to share multiple links in Instagram Bio
Besides the zero Cost, AddToQR's links and QR codes have other advantages too. First, the links and QR Codes are dynamic and editable, which means you can modify and change your information whenever you want, but keep the same link and QR Code. So, you don't need to change your link in your Instagram bio if you change your location. Second, as you see in pic 1, we have a navigation tool that will forward you to google or other navigation systems to show you an optimum path to the target location from your current location. Third, there is an analytical tool in the system, which you can see how many times your link or QR code has been scanned.
You can follow these steps to create a link or QR code for your business. To use your link, you should log in to the system and find your link through the "Download" section. Remember that there aren't any fees or deadlines to use your link or QR Code, so use them with peace of mind.
Instagram bio links, multiple links in the Instagram bio, multiple Instagram links, How to add multiple links in the Instagram bio