AddToQR.com A Free Dynamic Qr Code ( Editable QR Code) , Business Information Sharing Service
AddToQr.Com is a Free dynamic and editable business information sharing service. In Addtoqr, you can create Dynamic Qr Code (Editable Qr Code) for your business which holds all essential information about your business; including your location on the map (Location Qr Code) with detail of your address(Address Qr Code) and a navigation button (which your visitor can find you directly without searching for written address), Title of your Location, and extra information like your website, phone number, email address, and some useful social media like Facebook, Twitter, Instagram, Youtube and Whatsapp. All the information is illustrated as below.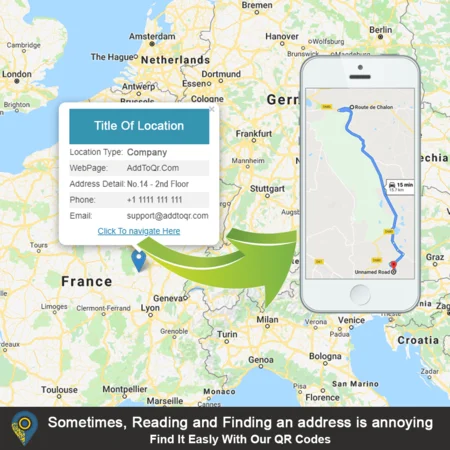 Sometimes reading and finding locations is annoying. Find it easyly with addtoqr.com's Dynamic QR Code (Ediable QRr Code)
With this Dynamic Qr code (Editable QR Code), you can edit your location and its information without any changes in your QR code. This means that you can print this QR code on all of your documents and present all of the mentioned information with peace of mind, just by one Dynamic QR Code (Editable Qr Code). Besides, AddToQr.com provides iframe and links to use the information anywhere which you need to show your information live or by click. In addition, we have an analytic tool that gives information about the number of visits per hour, day, month and year. For more information please read the features below.
Dynamic qr code
If you have a business i.e company, restaurant, agency, etc you may need to share your information with your clients. At the beginning of the QR code invention, many companies used to print them on their documents and share their information with clients. However, these QR codes have some issues. First of all, they are static QR codes, which means these QR codes should be changed if their information is changed. The second disadvantage of these static QR codes is for each information i.e your location, your website, your phone number, and some useful social media: Facebook, Twitter, Instagram, Youtube and Whatsapp you need different QR codes.
Addtoqr serves its dynamic QR code as a solution to these problems. First of all, you can share all of your essential information like your location on the map with the navigation option, your website (clickable, also other links can be used), your phone, email and other details. The second benefit of this QR code is its dynamic nature. This means once you create your dynamic QR code, you can edit the information without having any changes in the QR code. So you can print it anywhere you want.
Once you scan this dynamic QR code, a map like the figure will be loaded in the browser and the mentioned information will be illustrated on the map. You can use the navigation button to open the google map navigation service and use all of its benefits. Besides this dynamic QR code, we provide iframe and a link that you can use to design your QR code graphically with these services. Also, we are working on our QR designer.
Generate Dynamic QR Code (Editable QR Code) for your location and bring convenience for your visitors.
Editable QR Code
System generates the QR code for your location. You can select your location from the map at the start of the page and simply print it on your documents or social media. All kinds of BAR code and QR code reader applications can read this code and show the location on the map which you can use navigation tool. If you ask about the differences of this service from simple QR code generators, read other features. Also, Click for Demo.
Completely Free
All Services at AddToQR.Com are completly free. Develope and improve your business with no worries.
Editbale HTML Code
Beside the QR code, we generate an Iframe tag for your website or blog which illustrates your information and location on the map. This map is clickbale too and gives the ability of navigation for your audiences. Click to see the Demo.
Analytics
You can log in to your dashboard and check the insights. For now, we just provide the number of visits per hour, day, month and year. We are working on this tool to provide valueable information for you.
On all Platforms
You can use this service from all devices. Linux, Windows, Android and IOS.
Information on the map
Our HTML service illustrates some extra informations on the map. Your webpage, Details of your address, Phone number, Email and social media like Facebook, Twitter, Instagram, Youtube and Whatsapp. If you are thinking about publish ing your information on the webpages, we recommend you our HTML block. Click to see the Demo.